In today's hectic lifestyle of expanded and heavy routines, a good sleep sounds no less than an awaited luxury. Everyone around you wishes to fall into a deep, peaceful slumber after a tiring day. That however, is not so conveniently possible most of the times due to various reasons, particularly if you are a hot sleeper.
While an irregular sleep is a common complaint, the problem exaggerates if it's a scorching summer night. You may end up awake in the middle of the night, all sweaty and groggy. Among the diversity of solutions you would have already tried by now, switching to cooling light weight comforters, such as a lightweight summer down alternative comforter, may be of great help. Though many people would like to check the down comforters, actually alternatives to down comforters are trending.
1. Why Should You Invest in a Lightweight Summer down Alternative Comforter?
An effective regulation of the human body temperature is pivotal in maintaining an affordable sleep-wake routine. Researches illustrate that an increased body temperature alarms you of waking up in the morning, while a drop in the same makes you fall and stay in a slumber at night. If however, you sleep hot, the leveled up body temperature would result in an irregular sleep, causing much discomfort. A cooling comforter may help to pull down the body temperature, thus helping you enjoy a comfortable sleep.
2. Lightweight Summer down Alternative Comforter Shopping Guide
If you are planning to find a best quality down alternative comforter among the best light-weight comforters this summer season, there are some important aspects that demand your consideration before you step out in the market to bring home the utility for a most awaited, undisturbed sleep. Discussed below are the prerequisites of picking up the best comforter alternatives for you:
2.1 Weight Comes First
When stepping into choosing the best comforter for yourself; start with paying special attention to the weight constraint, which represents the quantity of material stuffing inside the comforter. Considering the fact that the amount of material corresponds to the warmth factor in a direct proportion, it is advisable to pick a lightweight utility for summers, or round the year usage requirements.
2.2 Material
Next in the line are the material specifications comprising of the stuffing and outer shell constraints. While you may be offered to select from synthetic and natural fiber alternatives, picking the cotton or eucalyptus based options would suit best to the requirements of hot sleepers.
These are comparatively more open to breathe and provide a cozy feel. As far as the stuffing is concerned, polyester filling, as the latter may tend to increase sweating, considering the fact that you are a hot sleeper. If you need to select between a down alternative and down comforter, choose the second one, since it has high porosity, allowing you to breathe better.
2.3 Construction
Not just the utility, but the packaging also adds to the durability and safe keep of your comforter. Pay attention to the same and prefer the 'Baffle Box' covering, that is, the stitched single boxes which prevent a spreading out or tampering of the comforter material. You should additionally go for a 'Doubly Stitched' comforter piping to make sure that the latter effectively resists wearing out with consistent and long term usage.
3. 7 Lightweight Down Alternative Comforters to Pick for Hot Sleepers
Having discussed about the perquisites of choosing the best comforter for hot sleepers in enough detail, let us proceed towards looking through the most feasible, lightweight down adlternative comforters  to pick from the market in the following section: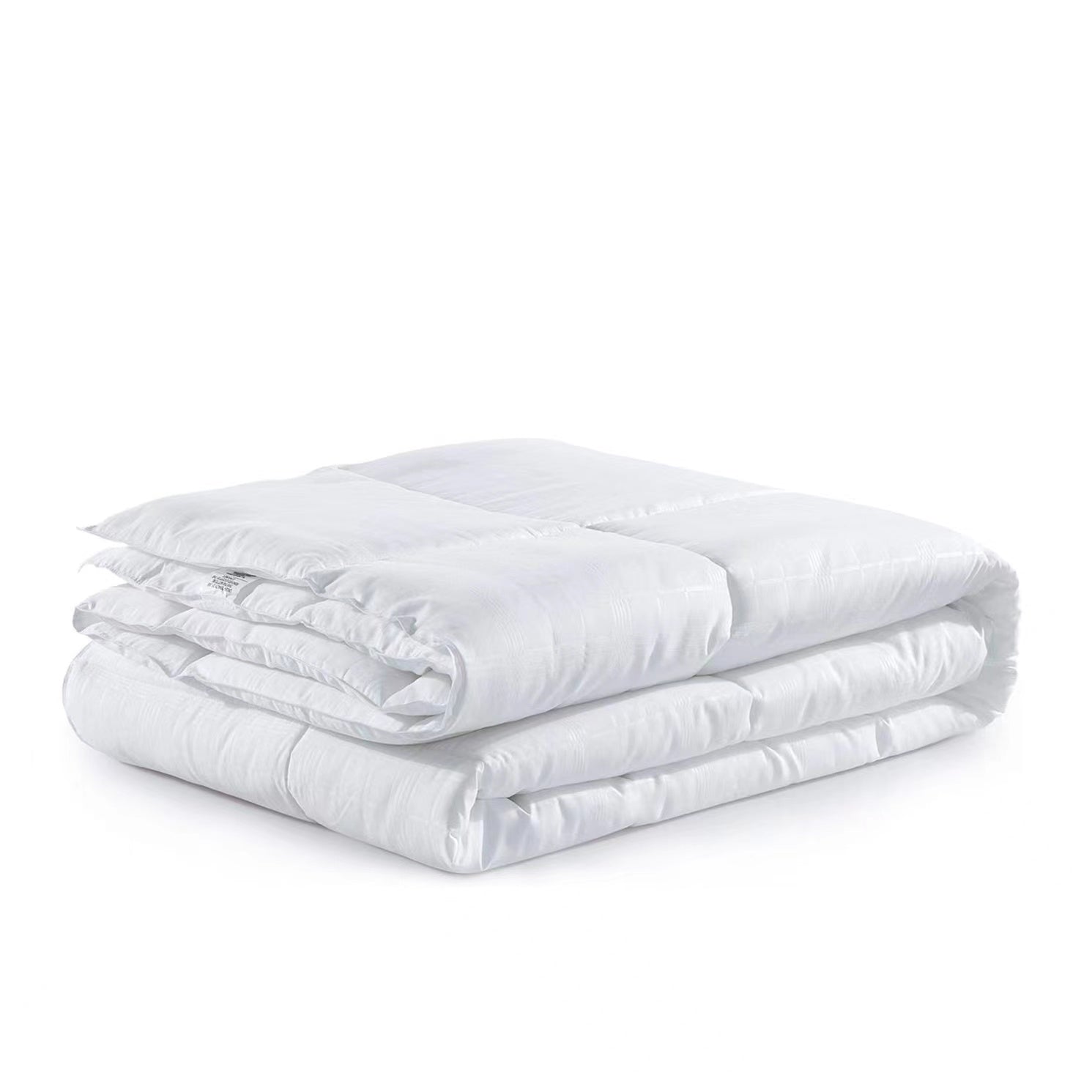 Price: $ 54.99
Ahead in the list is the PeaceNest lightweight summer down alternative comforter, which you can select for a sound and uninterrupted sleep on high temperature summer nights.
Woven in a classy, square styled, gusseted box stitching, the comforter comes with a no shift property in the filling material, which entitles you to the maximum possible comfort.
The soft and plush texture additionally complements your bedroom interiors with a crisp and elegant appearance.
The 100% polyester fabric covers comprising of 100% polyester filling in a complementary white shade, work to provide the everlasting experience of sleeping on a cloud.
If you are looking for the best lightweight down alternative duvet insert, here it is, with the 100% polyester filling. 
As for the cleaning and care instructions, these comforters stay in the perfect form and shape with dry and spot cleaning facilities.
Price: $69.99
If you have the sleeping habit snuggling into pulled over duvets and covers, but the hot sleeping constraints pop up to disturb you every night, pick the PeaceNest PrimeSoft™ lightweight down alternative comforter for summer sleeping concerns.
The PrimeSoft™ fabric is processed in 100% non-toxic quilted technique, providing you with the most relaxed and comfy sleep for sure.
The 3D filling material is packed in an evenly expanded setting to take care of fill shifting concerns, thus ensuring an all-round comfort while you sleep. This 3D filling is no less fluffy even compared with the best lightweight duvet insert.
The lightweight construction work of the utility caters to a comfortable usage throughout the year and extensive portability.
Concerning the temperature sensitivity of both hot and cold sleepers, the extremely breathable and plush material of the comforter keeps a perfect balance between warmth and luxury.
3) CozyNight Soft Lightweight Down Alternative Comforter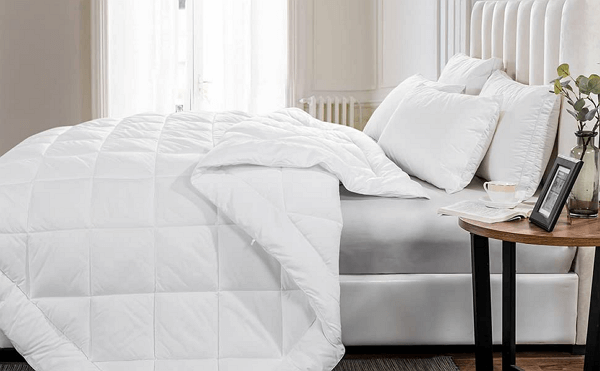 Price: $ 55.99
This one is the best lightweight down alternative comforter for summer, considering that fact that you prefer a quiet, noiseless sleep. Stitched from a highly porous and brushed microfiber material, the duvet showcased here is all set to give a feathery and softest ever feel to your skin. The utility is an all-season favorite, with the 3-fold usage flexibility to work as stand-alone comforter, a cozy blanket, a cozy blanket, as well as a duvet insert.
Coming to the explicit requirements of hot sleepers, the poly-fill microfiber fabric houses the best thermal ability to keep you cool as you sleep. Leave your packaging worries if you have any with the fine quality Diamond Stitching Tech double hemming with a baffle box covering; that makes sure of the comforter material being stuck in place.
Talking of the size variations, you get to choose from the king, queen and full size alternatives, so that the spread never lands out of the comforter. When it comes to care and maintenance, you can prefer a gentle, cold water machine wash, with an air or low tumble dry facility.
Shopping link: https://a.co/d/cLqDeK7
4) EASELAND All Season King Size Soft Quilted Down Alternative Comforter
Price: $ 50.91
If you wish to sort your cozy sleeping concerns in combination with adding classic beauty to your living room interior, this one is possibly the smartest choice you can make when picking a lightweight summer down alternative comforter. Stitched from a premium poly-fill material with an evenly distributed stuff, the utility shuts down all the clumping and suffocating smell concerns.
While most temperature sensitive sleepers have a hard time on feathery and goose down bedding arrangements, picking the aforesaid comforter works well to set the issue straight. Hence, you can dive into a healthy and noiseless sleep in the most cohesive bedding temperature. The utility reaches you in a durable box type packaging that caters to the queries of slack threading or stuff getting leaked.
Have no worries regarding the easy maintenance of this comforter, with its quick and effective machine wash compatibility and tumble dry flexibility on a reduced temperature. You will additionally, have no complaints of color bleeding and material shrinkage.
Shopping link: https://a.co/d/a33gLwm
5) DWR 100% Cotton Lightweight Down Alternative Comforter
Price: $ 53.99
For those who wish to enjoy a comfy sleep but are wary of synthetically crafted duvets and comforters, the aforementioned, lightweight comforter solution may work best to address the explicit material requirements. If you are willing to complement comfort with luxury, this comforter can suit you the most.
Manufactured with a high end, Polyester and Lyocell based porous filling material, the comforter guarantees you of a feathery skin feel, while keeping your body cool and dry with its instant sweat absorbent crafting technology. This one is further, an all-season utility that caters to keep you warm during winters, while putting down all the distractive concerns of sensitive sleepers.
Moving ahead with utility packaging, you get to access the product in box quilted casing with doubly stitched material to prevent the stuff from shifting or falling apart. This affordably means that you will never have to worry about the comforter material leaving cold spots on the bedding. When using the comforter, you can switch between standalone and duvet insert arrangements.
Talking of usage durability, the product is designed to last over extensive workability and tends to get softer with use and does not degrade in quality even after a series of machine washes and drying cycles.
Shopping link: https://a.co/d/0xn1fdF
6) DOWNCOOL Down Alternative Lightweight Quilted Comforter
Price: $37.99
Another entry into the list of lightweight comforters for hot sleepers is the aforesaid comforter option. Stitched with a microfiber polyester material, the utility is designed for catering to the most specific sleeping requirements. The 2-in-1 standalone and duvet insert flexibility further adds up to the buyer's appeal. Pick this comforter to enjoy the most relaxed night rest experience.
The comforter works to regulate the temperature of your bedding arrangement, while keeping you warm during winter night chills and giving a cool and cozy feel in warm summers. All in all, you can regard this down alternative comforter as a dependable all-season utility. The product is available in decent size variations to address all your comfy snuggling needs.
 Moving towards the packaging constraints, you get to receive the product in a box quilt wrapping, with a double lined, fine quality hemming that keeps the filling material intact and prevents any cold spots from appearing on the bedding. As far as product maintenance is talked about, you can easily wash the comforter in gentle, cold water machine cycle, followed by drying in reduced temperature.
Shopping link: https://a.co/d/7xPQVZU
7) Utopia Bedding Comforter Duvet Insert - Quilted Comforter with Corner Tabs
Price: $ 29.99
Last in the list is the aforesaid comforter utility, which you can pick to set aside all your hot sleeping distresses for forever. Crafted with high quality microfiber, this product is quite effective in providing a cozy sleeping experience with high rated temperature regulation of your sleeping space. The filler material is composed of the finest quality fabric to ensure a soft, plush and feathery feel on your skin.
This one is a compact size comforter with silicon based fiber filling to make you feel light and comfortable as you sleep. The exclusive corner tab design of the comforter works to house the duvet covering, while making the comforter set within the assigned space dimensions. The product comes to you in a stylish, quilted box stitching that does not allow the comforter material to leak out.
The product is easy to use and maintain, with a machine compatible washing and drying facility, requiring you to clean the comforter in a gentle and cold water machine cycle and opt to dry the same via tumble or line drying process under low heat.
Shopping link: https://a.co/d/g8dHH3h
4. FAQs About Down Alternative Comforter
4.1 What can you explain about the Level 1 down alternative comforter?
This one is an elementary class of lightweight comforters that suit best to cater a cozy and comfortable sleep during warmer nights. While the product can feel warmer in comparison to a customary summer comforter, the latter feels much cooler than the product ranges between Level 3 and Level 4. Being a bit lighter for winter nights, the Level 1 comforter series work most feasibly during the moderately warm nights of the spring season.
4.2 How to fluff a down alternative comforter?
Snapping works best to fluff a down alternative comforter in the quickest possible time. All you need to do is to stretch your comforter on a flat surface, get a hold of its ends at the bottom, followed by raising the comforter prior to a snap down of the same. The activity causes the comforter to wave up and create air spaces between its fibers, causing it to fluff.
You can complement this with removing material lumps within the comforter fabric with a gentle hand massage over the lumpy regions to get the fibers separated.
4.3 Do you require covering up a down alternative comforter?
While using a cover to shield you comforter is entirely a matter of choice, it is recommended to opt for the same to protect your product from getting stained or dirty. Putting the comforter underneath a cover additionally makes it easy to maintain the fabric quality and ensure its long life. Also, it is much easier to wash a lighter cover rather than the relatively heavier comforter itself.
4.4 What are the temperature constraints of a down alternative comforter?
Explicitly speaking, all weather down alternative comforter tend to feel warmer than the conventional synthetic comforters. To beat the warmth factor, you can choose to pick a heavyweight, synthetically stuffed comforter alternative. Nevertheless, if you are keen on getting a lightweight comforter that caters your need to feel warm during a winter night, the down alternative variants have no comparison.
4.5 Is it necessary to wash a down comforter before beginning to use it?
You should advisably wash a new down comforter before starting to bring the latter into regular usage. True that, these utilities come in high quality, impermeable packaging, but you should remember that these products are manufactured in factory units that are often a storehouse of chemicals, dust, dyes and a host of other allergic materials that can prove harmful to your skin. Hence, it is better to wash the comforter prior to a consistent usage.
4.6 How often to wash a down comforter?
Except that you encounter heavy spills and stains, it is enough to wash your comforter once within a gap of 2 years. In case your comforter resides within a duvet cover that can be removed and washed, the aforesaid cleaning pattern works fine. The cleaning frequency, however, is largely dependent on how the comforter is regularly put to use.
5. Conlusion
In general, it is not difficult to find the best light down alternative comforter, but you need to know your sleep habits and sleep needs before your purchase, and compare different products in different aspects. Considering the above list, as the author, I would not hesitate to recommend you PeaceNest PrimeSoft™ Lightweight Down Alternative Comforter. In addition to the above mentioned features, it is also the best affordable down alternative comforter among the above options. I ordered this lightweight down alternative comforter queen size and received the package soon. From the day I received this high quality down alternative comforter, I can't sleep without it! If you're a hot sleeper and don't want to spend too much time selecting most comfortable down alternative comforter, this one won't let you down.